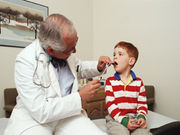 Insufficient evidence to assess benefits, harms of screening for children in whom no concerns raised
TUESDAY, Feb. 16, 2016 (HealthDay News) — The U.S. Preventive Services Task Force (USPSTF) concludes that the evidence is currently insufficient to weigh the balance of benefits and harms of screening for autism spectrum disorder (ASD) in young children for whom no concerns of ASD have been raised. These findings form the basis of a recommendation statement published in the Feb. 16 issue of the Journal of the American Medical Association.
Albert Siu, M.D., M.S.P.H., from the Mount Sinai School of Medicine in New York City, and colleagues reviewed the evidence on the accuracy, benefits, and potential harms of brief, formal screening instruments for ASD administered during routine primary care.
The authors note that the recommendation is applicable for children (aged 18 to 30 months) who have not been diagnosed with ASD or developmental delay, and for whom no concerns of ASD have been raised by parents, caregivers, or health care professionals. The USPSTF concluded that the current evidence is inadequate for evaluating the balance of benefits and harms of ASD screening in routine care (I statement).
"Parents or caregivers who have any concerns about their child's learning or behavior should tell their child's primary care clinician," Task Force member Alex Kemper, M.D., M.P.H., said in a statement. "Doctors and other health care professionals who care for children should listen to parents' and other caregivers' concerns and use proven tools to assess the need for further testing and services."
Recommendation Statement
Editorial
Copyright © 2016 HealthDay. All rights reserved.