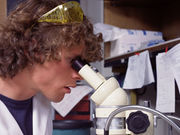 High miR-21 expression seen in laryngeal cancer versus non-neoplasm tissue
TUESDAY, Dec. 22, 2015 (HealthDay News) — Expression of miR-21 is associated with laryngeal carcinoma, with high expression related to increased laryngeal cancer risk, according to a meta-analysis published online Dec. 12 in the Journal of Evidence-Based Medicine.
Peng Zhou, M.D., from the West China Hospital at Sichuan University, and colleagues conducted a meta-analysis to examine the expression and clinical significance of miR-21 in tissues of laryngeal carcinoma. Data were reviewed from four studies with 160 cases.
The researchers observed no significant between-study heterogeneity. Meta-analyses showed that there was high miR-21 expression in laryngeal cancer versus non-neoplasm tissue (odds ratio, 4.47; P = 0.02). Expression of miR-21 between TMN I-II and TMN III-IV was reported in only one study.
"In conclusion, the expression of miR-21 correlative laryngeal carcinoma is confirmed. It suggests that high expression of miR-21 may be related with laryngeal cancer risk," the authors write. "The miR-21 expression level might be an important biological marker of laryngeal cancer diagnosis. Nonetheless, large and well-designed prospective studies should be conducted to confirm these findings before miR-21 can be implemented into routine clinical management."
Abstract
Full Text (subscription or payment may be required)
Copyright © 2015 HealthDay. All rights reserved.