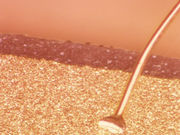 Early experimental study shows promise; more research needed
MONDAY, Oct. 26, 2015 (HealthDay News) — Janus kinase (JAK) inhibitors may hold potential for boosting hair growth, new animal research suggests. The findings were published online Oct. 23 in Science Advances.
Angela Christiano, Ph.D., an associate professor of molecular dermatology at Columbia University in New York City, and colleagues tested the JAK inhibitors tofacitinib (Xeljanz) and ruxolitinib (Jakafi). They tested topical applicants on mouse skin and on human scalp tissue grafted onto mice.
The researchers reported that the drugs triggered hair growth. "Not only can JAK inhibitors induce a new hair cycle in mouse skin but also can extend an existing growth phase in human follicles, suggesting they may have a broader applicability across several different forms of hair loss," Christiano told HealthDay.
Although infections and cancer are linked to use of the medications, topical use — such as via a cream — could limit exposure in patients, Christiano said. The drugs, she said, cost $3,000 to $9,000 per month currently, though costs of a potential hair loss product are unknown.
Columbia University has filed patent applications relating to the discoveries reported in this study, which are being commercialized through Vixen Pharmaceuticals.
Copyright © 2015 HealthDay. All rights reserved.