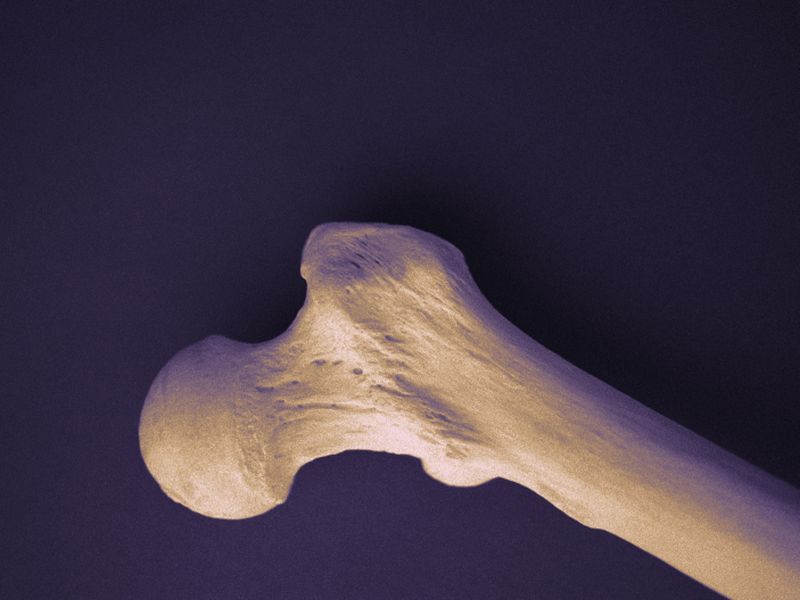 Fewer osteoclasts seen at osteolysis membrane-bone interface with denosumab versus placebo in patients undergoing revision hip arthroplasty
THURSDAY, Jan. 21, 2021 (HealthDay News) — For patients with symptomatic, radiographically confirmed osteolysis undergoing revision total hip arthroplasty surgery, a single dose of denosumab results in a reduction in osteoclast numbers, according to a study published online Jan. 11 in The Lancet Rheumatology.
Mohit M. Mahatma, from the University of Sheffield in the United Kingdom, and colleagues conducted a phase 2 randomized, proof-of-concept superiority trial involving patients aged 30 years or older and scheduled for revision total hip arthroplasty surgery for symptomatic, radiographically confirmed osteolysis. Participants were randomly assigned to either subcutaneous denosumab or placebo. The between-group difference in osteoclast number per millimeter of bone surface of biopsies taken from the osteolytic membrane-bone interface at surgery eight weeks later was assessed as the primary outcome.
Ten patients in the denosumab group and 12 in the placebo group were assessed for the primary outcome. The researchers found that compared with the placebo group, in the denosumab group, there were 83 percent fewer osteoclasts at the osteolysis membrane-bone interface (median, 0.05 versus 0.30 per mm). There were no deaths or treatment-related serious adverse events reported.
"The results of this proof-of-concept clinical trial indicate that denosumab is effective at reducing bone resorption activity within osteolytic lesion tissue and is well tolerated within the limitations of the single dose used here," the authors write.
The study was funded by Amgen. Amgen provided denosumab and placebo free of charge.
Abstract/Full Text (subscription or payment may be required)
Editorial (subscription or payment may be required)
Copyright © 2020 HealthDay. All rights reserved.