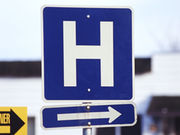 Decreases for targeted conditions and nontargeted conditions among Medicare elderly beneficiaries
FRIDAY, Feb. 26, 2016 (HealthDay News) — From 2007 to 2015 there were decreases in readmission rates for targeted and nontargeted conditions, according to a study published online Feb. 24 in the New England Journal of Medicine.
Rachael B. Zuckerman, M.P.H., from Brigham and Women's Hospital in Boston, and colleagues compared monthly hospital-level rates of readmission and observation-service use within 30 days after hospital discharge from October 2007 through May 2015. An interrupted time-series model was used to determine when trends changed and whether the changes differed for targeted and nontargeted conditions. Data were analyzed for Medicare elderly beneficiaries from 3,387 hospitals.
The researchers found that readmission rates for targeted conditions decreased from 21.5 to 17.8 percent from 2007 to 2015, and rates for nontargeted conditions decreased from 15.3 to 13.1 percent. There was a quick decline in the readmission rate shortly after passage of the Affordable Care Act (ACA), which continued at a slower rate for both targeted and nontargeted conditions after October 2012. There were increases in the rates of stays in observational units for targeted and nontargeted conditions from 2007 to 2015. After implementation of the ACA there was no significant correlation between changes in observation-unit stays and readmissions, within hospitals.
"Readmission trends are consistent with hospitals' responding to incentives to reduce readmissions, including the financial penalties for readmissions under the ACA," the authors write.
Copyright © 2016 HealthDay. All rights reserved.