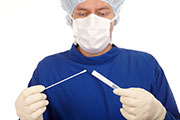 AAFP encouraged CMS to consider coverage and follow through on proposal
TUESDAY, July 21, 2015 (HealthDay News) — The Centers for Medicare & Medicaid Services (CMS) has finalized the decision to cover human papillomavirus (HPV) testing once every five years in conjunction with a Pap smear test for asymptomatic Medicare beneficiaries aged 30 to 65 years, according to a report published by the American Academy of Family Physicians (AAFP).
CMS has found adequate evidence to include HPV testing as part of cervical cancer screening. Following this ruling, Medicare will cover cervical cancer screening with U.S. Food and Drug Administration-approved laboratory testing.
The CMS coverage decision is in accordance with the AAFP's recommendation for cervical cancer screening with a Pap smear every three years in women aged 21 to 65 years, or with combined Pap smear and HPV testing every five years in women aged 30 to 65 years who choose a longer screening interval. These screening protocols have also been supported by the U.S. Preventive Services Task Force, with a grade A recommendation. The AAFP first requested that CMS consider this coverage, initiating the analysis that led to the decision, and has encouraged CMS to follow through on the proposal.
"This decision is consistent with the best medical evidence, and provides women and their physicians more options for cervical cancer screening," Robert Wergin, M.D., the president of the AAFP, said in a statement.
Copyright © 2015 HealthDay. All rights reserved.