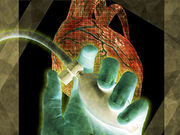 Risk of CVD was lowered by 25 percent, while all-cause mortality risk was reduced 27 percent
TUESDAY, Nov. 10, 2015 (HealthDay News) — At least 16.8 million Americans could potentially benefit from the type of aggressive blood pressure treatment pursued under the Systolic Blood Pressure Intervention Trial (SPRINT). The findings were published online Nov. 9 in the New England Journal of Medicine to coincide with presentation at the annual meeting of the American Heart Association, held from Nov. 7 to 11 in Orlando, Fla.
For the study, 9,361 participants aged 50 and older were recruited from 102 medical centers and clinical practices throughout the United States and Puerto Rico. The researchers randomly divided the study participants into two groups, one where blood pressure was controlled to the current guidelines and another where systolic blood pressure was kept below 120 mm Hg. Between 2010 and 2013, the standard group took an average of two different blood pressure medications to meet the recommended goal, while the intensive treatment group received an average of three medications to further decrease their blood pressure.
The U.S. National Institutes of Health expected to wrap up the study in 2017, but ended it early when officials concluded the results were too important to wait. The investigators found that patients in the intensive treatment group had a 27 percent reduced risk of all-cause mortality, and a 25 percent reduced risk of myocardial infarction, other acute coronary syndromes, stroke, heart failure, or death from cardiovascular causes, compared with patients treated under existing guidelines.
"This is, in my view, the most important blood pressure study of the last 40 years," Dan Jones, M.D., a past president of the American Heart Association, said during the presentation.
Abstract
Full Text
Editorial 1
Editorial 2
Clinical Decisions
Copyright © 2015 HealthDay. All rights reserved.