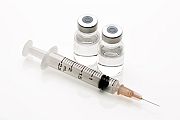 Researchers will look at effects in people with longstanding disease
TUESDAY, June 9, 2015 (HealthDay News) — Researchers are launching a clinical trial to investigate whether repeated injections of the tuberculosis vaccine bacille Calmette-Guérin (or BCG vaccine) holds promise as a treatment for type 1 diabetes. The researchers announced the start of their phase II trial Sunday at the annual meeting of the American Diabetes Association, held from June 5 to 9 in Boston.
"BCG is showing so much promise in worldwide trials [for conditions such as multiple sclerosis]," study author Denise Faustman, M.D., director of the immunobiology laboratory at Massachusetts General Hospital in Boston, told HealthDay. The BCG vaccine works by increasing levels of tumor necrosis factor (TNF) in the body, Faustman said. In type 1 diabetes, higher TNF levels appear to reduce abnormal white blood cells responsible for the related autoimmunity, and stimulate production of protective regulatory T cells.
The phase I trial of the vaccine lasted 20 weeks. The average time the study volunteers had diabetes was 15 years. They were randomly assigned to receive two injections of the vaccine or a placebo. The treatment was associated with temporary elimination of diabetes-causing T cells as well as a small, transient return of insulin secretion.
The new randomized, double-blind trial will include 150 adults between the ages of 18 and 60. Volunteers will receive two injections, of either the vaccine or a placebo, two weeks apart. Then they'll be given a single injection annually for the next four years. Faustman said initially they'll need to do blood tests every two weeks or so. Eventually, blood tests will only need to be done every six months to once a year.
Press Release
More Information
Copyright © 2015 HealthDay. All rights reserved.