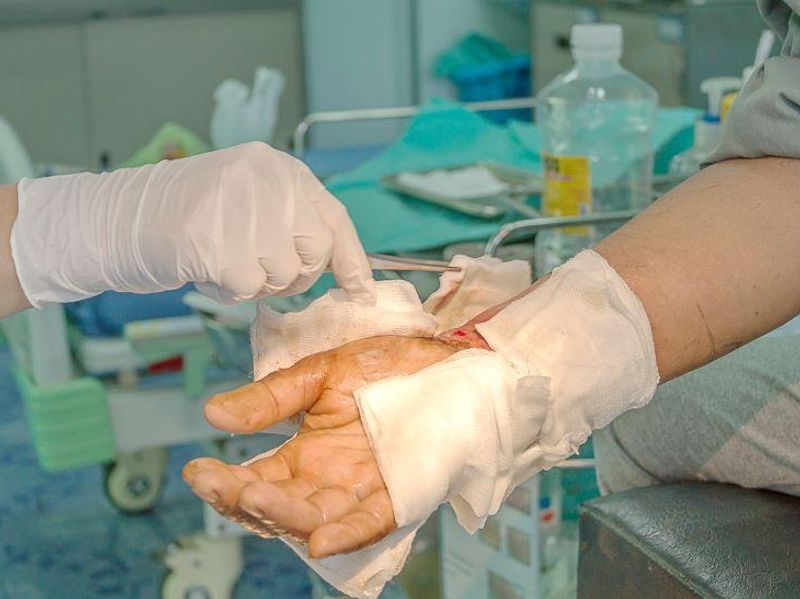 No difference seen between glutamine, placebo in the median time to discharge from hospital
WEDNESDAY, Sept. 28, 2022 (HealthDay News) — Supplemental enteral glutamine does not reduce the time to discharge alive from the hospital among patients with severe burns, according to a study published in the Sept. 15 issue of the New England Journal of Medicine to coincide with the annual European Burns Association Congress, held from Sept. 7 to 10 in Turin, Italy.
Daren K. Heyland, M.D., from Queen's University in Kingston, Ontario, Canada, and colleagues conducted a double-blind, randomized, placebo-controlled trial involving patients with deep second- or third-degree burns within 72 hours after hospital admission. Participants with severe burns (mean burn size, 33 percent of total body surface area) received 0.5 g/kg of body weight per day of enterally delivered glutamine or placebo (596 and 604 participants, respectively). Trial agents were given every four hours through a feeding tube or three or four times per day by mouth.
The researchers found that the median time to discharge alive from the hospital was 40 days in the glutamine group and 38 days in the placebo group (subdistribution hazard ratio [HR] for discharge alive, 0.91). At six months, mortality was 17.2 and 16.2 percent in the glutamine and placebo groups, respectively (HR for death, 1.06). There were no substantial differences in serious adverse events between the groups.
"In this trial involving patients with severe burns, supplemental enteral glutamine did not reduce the time to discharge alive from the hospital," the authors write.
Several authors disclosed financial ties to industry.
Abstract/Full Text (subscription or payment may be required)
Copyright © 2022 HealthDay. All rights reserved.